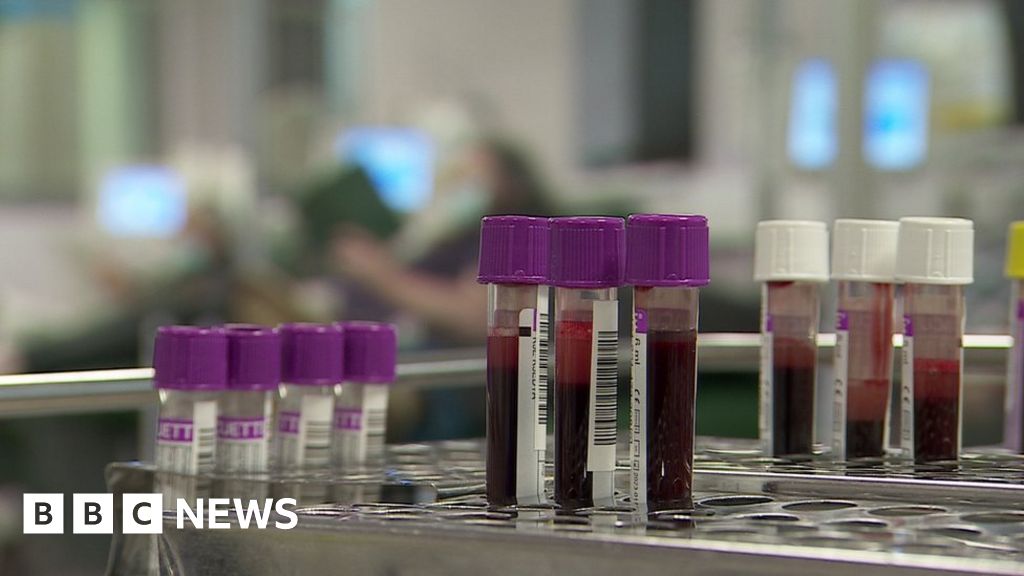 By Sara GirvinBBC Newsline reporter
Image caption, The blood transfusion service had 600 units of blood on Monday morning, compared to the 1,000 units they would expect to have
Northern Ireland's blood transfusion service has said that donations have fallen by more than a third in the new year.
The organisation told BBC News NI that issues caused by the pandemic meant blood stock was "significantly down".
Matt Gillespie, supply chain and testing manager for the service, said at this time of year they would expect to have more than 1,000 units.
"This morning we're sitting at 600 units of blood," he said.
He added that there had been fewer donors booking appointments.
"Even the donors that have booked, we have experienced a high number of cancellations and people not showing up," he said.
"When we've looked into this, it's because people are either positive [for Covid-19], they've been in contact with people who are positive, or other Covid-related reasons why they're staying away."
Image caption, Matt Gillespie said there will be difficult decisions to make
Mr Gillespie said the service does have plans in place for when stock falls.
"We first ask for more donors and we've been doing that, next we go down to named patient basis only where a consultant checks if a request is appropriate.
"After that we go down to amber alert and red alert.
"We want to avoid that because that involves cancelling routine surgeries and things like that, and that's the last place we want to be with the waiting lists being how they are," he said.
Mr Gillespie said the situation with blood stock was similar across the rest of the UK and Ireland.
"There will be difficult decisions to make," he said.
Image caption, The health service relies on a healthy supply of blood stock being available at all times
"We're in regular contact with the Irish blood service, the Welsh, the Scottish and the English, and they're all facing similar problems.
"They're all seeing reduced donations, therefore there isn't the same opportunity to import blood from other services, should the need arise."
The entire health service relies on a healthy supply of blood stock being available at all times.
The blood service aims to have at least five days of stock of each blood group, but over the past month, they say they have been down to less than two days stock of certain types.
Surgery patients, cancer patients, intensive care, maternity units are all heavy users of blood stock.
So there is concern about possible knock-on effects.
Dr Joanne Murdock, the medical director of the NI blood transfusion service and a consultant haematologist at the Northern Trust, said: "We may have to look at individual patients and suggest that we might have to put off their transfusion for a day or two, right down to the extreme where sometimes you might have to cancel elective surgery, if a lot of blood would be required for that surgery.
Image caption, The situation is similar in other parts of the UK and the Republic of Ireland
"It sounds like a cliché but the bloody supply is life saving and life sustaining.
"A lot of people think it's an acute event, a road traffic accident, you get transfused and it saves your life but for a lot of our patients, they rely on it week in, week out, to keep them going."
Andrew Klimacki has been giving blood platelets for 20 years.
"It does some good," he said.
"There's no pain involved, you're beautifully looked after.
"Normally you get a cup of tea and some biscuits, and you can sit down and relax for an hour or so and read the paper, without being harassed."
Robert Dalzell has continued donating blood platelets throughout the pandemic.
"I've always felt as safe as houses here," he said.
"It's a nice rest, but the serious side is that for relatively little effort I can make a big difference, in theory, to at least three people's lives."
The Northern Ireland blood transfusion service has asked anyone who thinks they might be eligible to give blood, to get in touch.