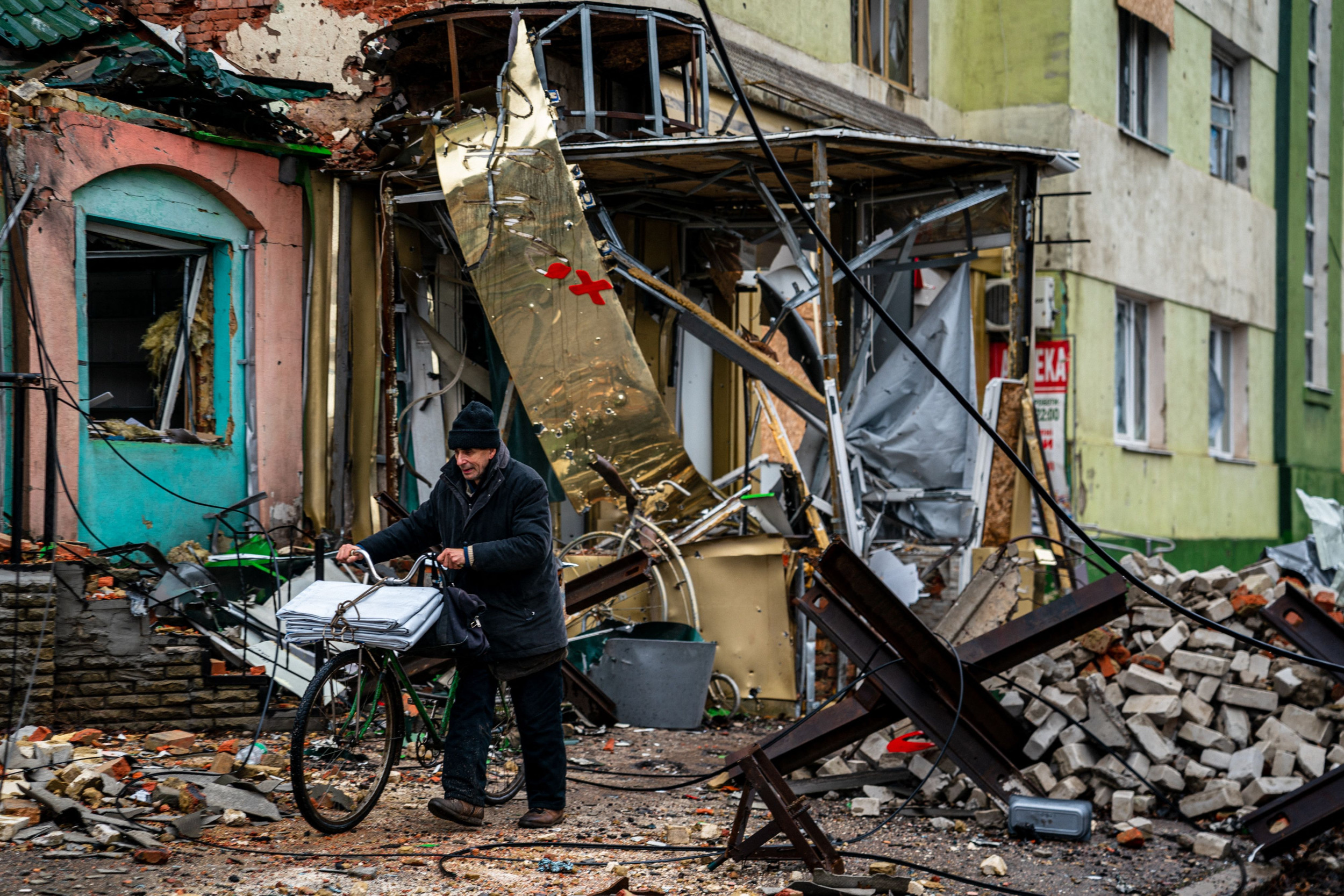 Russian forces have reportedly made gains near Bakhmut and Ukrainian troops face being surrounded by mercenaries fighting for Moscow.
The Institute for the Study of War (ISW) noted on Friday how Russian sources and military bloggers had said that Wagner Group troops had broken through in Soledar, around 11 miles away from the Donetsk oblast city fought over for months.
Although it was too soon to tell if Soledar had been captured entirely, one milblogger claimed that Russian troops had advanced as far as Krasnopillia, which lies around two and a half miles northwest and that "the Ukrainian grouping in Bakhmut is under threat of encirclement as a result."
A man pushes his bicycle down a street in Bakhmut, Donetsk region, on January 6, 2023, amid the Russian invasion of Ukraine. The Institute for the Study of War (ISW) said on January 6, 2023 that Wagner Group mercenaries fighting for Moscow had broken through the nearby city of Soledar. DIMITAR DILKOFF/Getty Images
However, the ISW said in its daily update that it had "not yet observed visual information that corroborates these Russian claims."
Wagner Group financier, Yevgeny Prigozhin emphasized it was "exclusively" his troops who had made these purported gains although talk of the total capture of Soledar was "premature," he said in a statement on his Telegram social media channel.
Newsweek has contacted the Russian and Ukrainian defense ministries for comment.
The U.S. think tank also said that Russian officials and milbloggers have responded "negatively" to Vladimir Putin's January 5 ceasefire announcement which was followed by continuing hostilities.
British defense officials said on Saturday that fighting between Russian and Ukrainian forces continued at "routine level" into the Orthodox Christmas period with some of the fiercest fighting around the town of Kremina, in Luhansk Oblast.
The hostilities were focused in heavily forested terrain to the west of the town where "combat has devolved to dismounted infantry fighting, often at short range."
Russian forces "highly likely view pressure around Kremina as a threat to the right flank of their Bakhmut sector," and this is important for any future advance to occupy the rest of the Donetsk Oblast.
Mikhail Razvozhaev, Russian-installed governor of the occupied Crimean city of Sevastopol, said that air defenses downed a drone in an apparent attack on the port where Russia's Black Sea fleet is based in the early hours of Saturday.
Meanwhile, the announcement by the White House of a U.S. weapons package for Kyiv worth $3.75 billion, including for the first time, Bradley fighting vehicles, has prompted little reaction from Russian officials and war bloggers.
This was because the Kremlin was more concerned with pushing a narrative regarding the impact of Western military aid on specific operations in Ukraine rather than focusing on any particular weapon systems or red lines, the ISW said.