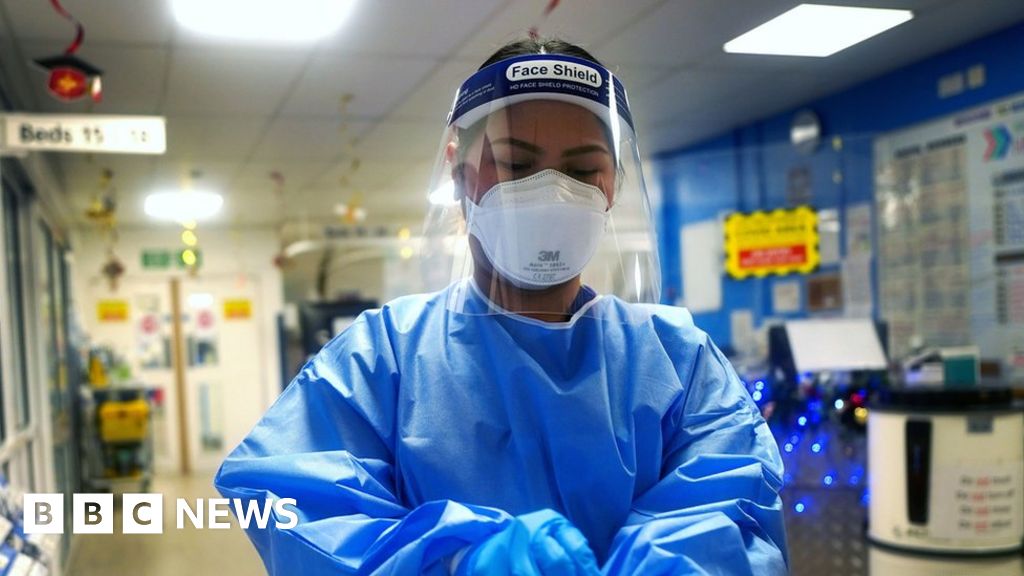 By Dulcie Lee & Nick TriggleBBC News
Covid-related staff absences at hospitals in England have risen sharply since Omicron took hold last month, latest figures show.
The number of workers off sick for Covid reasons trebled from the beginning of December.
The Royal College of Nursing said growing absences meant the situation was "simply not safe."
NHS national medical director Professor Stephen Powis said staff were under pressure but were "stepping up".
Downing Street said Boris Johnson saw no need for further restrictions despite the staff absences, as England's current measures were "balanced and proportionate".
Earlier this week, the prime minister said he hoped England could "ride out" the Omicron wave without further restrictions.
Approximately 4% of hospital staff in England – nearly 36,000 – were off for Covid reasons each day during the week ending 2 January.
That was a rise of 41% on the previous week, and treble the 11,957 absences seen at the beginning of the Omicron wave in the week ending 5 December.
When other sickness absence is added it brings the total off to 9% – nearly double what would normally be seen at this time of year.
However, the national figures mask stark regional differences.
Some of the hardest-hit hospitals in the country are in the north of England: Sheffield's teaching hospitals were missing 11% of staff because of Covid.
But in London, where data suggests a slowdown in the Omicron wave after Christmas, staff absences fell very slightly.
Prof David Spiegelhalter, a statistician from the University of Cambridge, said Covid cases in younger people were coming down "fairly fast" in the capital.
He said hospital admissions in London – which has been at the leading edge of the Omicron wave – seemed to be stable, but elsewhere in the UK admissions were still rising.
Prof Spiegelhalter said there was still no sign of a "serious increase" in patients in intensive care, those needing ventilation and deaths.
"We would have expected to see that by now in London and elsewhere, so that is the really reassuring thing," he told the BBC.
"I think we can guarantee that over this wave… what we're not going to see is a big surge in very severe outcomes."
He said the "crucial" thing was the disruption to the NHS and other services.
Patricia Marquis, from the Royal College of Nursing said: "Outside of healthcare, staffing shortages are closing shops and cancelling trains but nurses can't stop helping their patients.
"Instead, they find themselves spread thinner and thinner, but they can't keep spinning plates indefinitely either – this situation is simply not safe."
A modern browser with JavaScript and a stable internet connection are required to view this interactive.
This trust does not currently supply A&E waiting time figures.
About the data
About the data
When patients arrive at hospital by ambulance they should be handed over within 15 minutes. This data shows the proportion of ambulance patients who waited 30 minutes or more, in the week shown. It comes from daily situation reports which are published weekly during the winter in England. As this is fast-turnaround data, the NHS says only minimal validation can be carried out but it is considered fit for purpose.
Scotland, Wales and Northern Ireland do not publish ambulance queue data.
Patients at A&E should be seen within four hours of arrival. This data shows the proportion of patients attending A&E who waited longer than four hours to be treated, discharged or admitted.
This data is published monthly for England and Wales and weekly for Scotland. Northern Ireland publishes its data quarterly and Winter 2021 is not yet available.
If a patient at A&E needs to be admitted, the wait from decision to admit to being given a bed on a ward is recorded in England. The bed waits figure is the proportion of patients admitted via A&E who waited longer than four hours for a ward bed.
In Wales, bed wait data is not published, so the figure shown is the occupancy level in general and acute beds. Scotland and Northern Ireland do not publish bed wait or bed occupancy data.
Data for England is show by NHS trust, where the trust includes at least one hospital with a Type 1 A&E department. Type 1 means a consultant-led 24 hour A&E service with full resuscitation facilities.
When you enter a postcode for a location in England you will be shown a list of NHS trusts in your area. They will not necessarily be in order of your closest hospital as some trusts have more than one hospital. Data for Wales and Scotland are shown by NHS board.
Comparative data from two years ago is shown where available. However, where trusts have merged there is no like-for-like comparison to show. Bed occupancy data in Wales only goes back to April 2020.
If you can't see the lookup, click here
As of Friday morning, it is understood there were 16 hospital trusts in England that were in critical incident status – about one in eight of the total.
A critical incident is declared when a trust is worried it might not be able to provide core priority services, such as emergency care. It means it can get extra help and draft staff in from other duties.
On Wednesday night the number exceeded 20, but since then several have declared their critical incident over, NHS sources told the BBC.
NHS national medical director Professor Stephen Powis said Omicron meant "more patients to treat and fewer staff to treat them".
"While we don't know the full scale of the potential impact this new strain will have, Covid cases in hospitals are the highest they've been since February last year – piling even more pressure on hard working staff.
"Those staff are stepping up as they always do," he said.
Earlier, the Armed Forces sent 200 personnel into NHS hospitals across London to plug staff shortages.
Across the UK, about 1,800 armed forces personnel are supporting the NHS response to the pandemic.
But it has not been enough to stop performance deteriorating with latest figures showing long delays for ambulance crews outside hospitals.
Ambulances should be able to hand over their patients to A&E staff within 15 minutes of arriving.
But in the week to 2 January 23% waited more than 30 minutes.
That is a similar level to what was being seen before Christmas, but above the numbers seen before the pandemic began, when 18% of ambulances were facing delays at this point of winter.
Meanwhile, travel rules are changing in the UK. Fully-vaccinated travellers arriving in the UK no longer need to take a pre-departure test and do not need to isolate while waiting for their post-arrival PCR result.