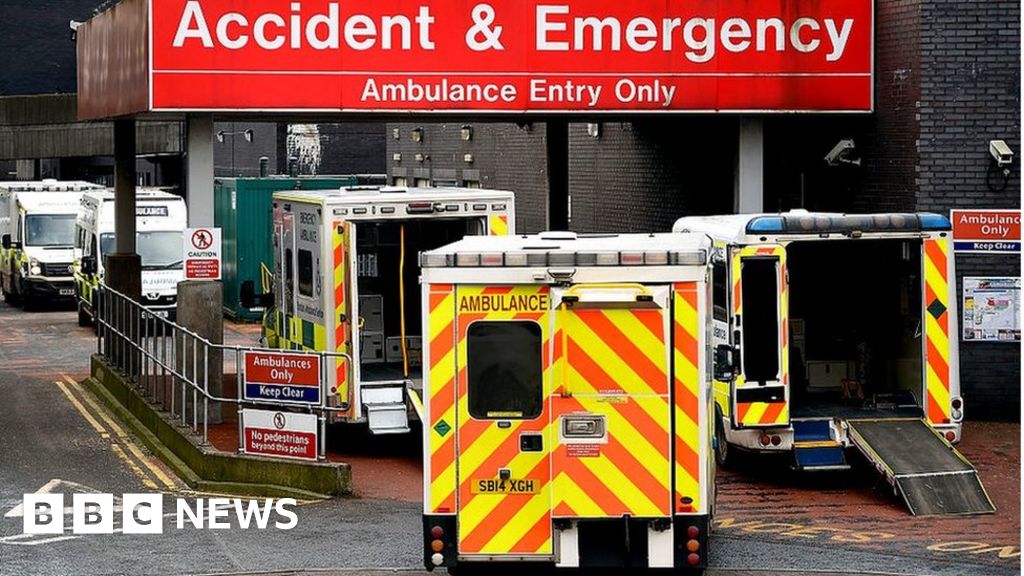 Several of Scotland's A&E departments want emergency measures brought in because of concerns about patient safety, a leading clinician has said.
Dr John Paul Loughrey, of the Royal College of Emergency Medicine, said patients were being kept in "inhumane" conditions due to high occupancy.
A&E waiting times have been the worst on record in recent weeks and months.
The Scottish government has urged people with common winter illness to use NHS self help guides.
On Sunday, RCEM president Dr Adrian Boyle said between 300 and 500 people were dying every week across the UK as a result of delays to emergency care – this appeared to be based on research published by the Emergency Medical Journal.
He said a severe flu outbreak, which was made worse by a lack of immunity because of Covid isolation measures, has resulted in bed occupancy reaching record levels.
Dr Loughrey, who is RCEM vice president in Scotland, said the figure was around 50 deaths per week north of the border.
A number of hospitals in England have declared critical incidents in recent days, meaning they cannot function as usual due to extraordinary pressure.
Dr Loughrey said similar discussions were happening in Scottish A&E departments, after NHS Greater Glasgow and Clyde refused to declare a major incident at the Queen Elizabeth University Hospital.
He told the BBC vulnerable patients were being kept in "frigid" conditions in ambulances parked outside hospitals because there was no room for new admissions.
Image caption, QEUH staff raised concerns over patient safety
Others, he said, faced waiting on hospital trolleys for hours and becoming delirious, with risks of falling or contracting infections due to crowded waiting rooms.
"The Queen Elizabeth is not the only hospital that has considered stepping on to major incident footing," he said.
"Other clinicians who work in emergency departments have reported the same discussions across the whole country, not just the west of Scotland.
"We really need urgent intervention across the whole system in order to protect the patients from the harm that's befalling them just now."
Scotland recorded its worst ever performance times at A&E in the week up to 18 December, with 55% of patients seen within the government target of four hours.
This is down from 62.4% the previous week.
A total of 1,821 patients spent more than 12 hours in emergency departments across Scotland.
Dr Loughrey suggested health boards could take emergency measures such as redeploying staff in the same way as in the early stages of the Covid-19 pandemic – though that would not be a catch-all solution.
He said this would put more focus on the front doors of hospitals, but may mean patients are moved to other wards that are understaffed.
However he said A&E departments were experiencing conditions "worse than anything seen during any of the pandemic times" and he was "astonished" that so many staff continued to show up for work.
"There is no easy answer to this," he said. "The people in government need to give us not the authority but the support when we feel this is a necessary step."
Health Secretary Humza Yousaf said pressures from the Covid-19 pandemic had not gone away while backlogs, a cold winter and "extraordinary" flu levels had put increased strains on the NHS.
He said the Scottish government was working with health boards to ensure people leave hospital without delay.
"Emergency care is always available for those who need it," he added. "However many people are seeking help with common winter illness and NHS Inform have useful self-help guides to let everyone know when to stay home and when to seek more care.
"If you do think you think you need to visit A&E, but it is not an emergency, you can contact NHS 24 where you may be referred to a more appropriate urgent care service. Local GPs and pharmacies can be also be contacted as a first port of call for non-critical care."