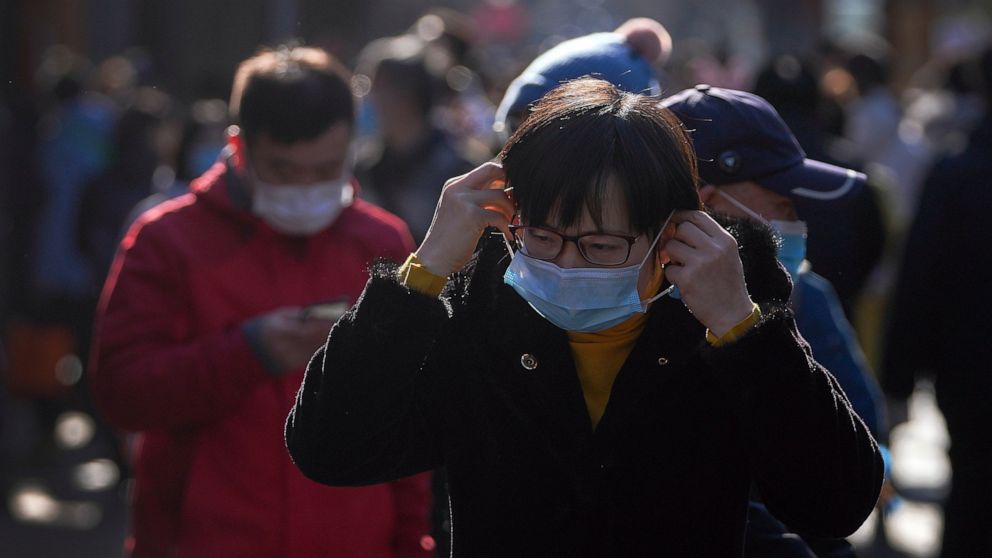 PARIS – Unvaccinated people traveling from the United States will have to self-isolate in France for 10 days under supervision from local authorities in line with new government restrictions that come into force on Sunday.
All passengers from the U.S. have to provide a negative COVID-19 test a PCR or an antigen test no older than 48 hours in addition to proof of vaccination before boarding a flight to France.
Unvaccinated travelers from the U.S. previously were required to self-quarantine without supervision for seven days.
New COVID-19 cases in France have surpassed 200,000 for four consecutive days, fueled by the highly contagious omicron variant.
French authorities also are stepping up pressure on unvaccinated residents. The government is pushing parliament to pass a law in the next two weeks that would allow only vaccinated residents to enter restaurants, cinemas, theaters, museums, and sports arenas.
France's current "health pass also allows access for people with proof of a negative test or having recovered from COVID-19.
If the law is passed, the health pass would become a vaccination pass that would also be required on inter-region trains and on buses and domestic flights.
HERES WHAT YOU NEED TO KNOW TODAY ABOUT THE CORONAVIRUS PANDEMIC:
Michigan schools hiring hundreds of mental health staffers to work with students
National Basketball Association calls up minor league referees to keep games going
Dozens of US colleges and university's returning to online classes
Follow APs pandemic coverage at https://apnews.com/hub/coronavirus-pandemic
HERES WHAT ELSE IS HAPPENING TODAY:
AMSTERDAM Thousands of people defied a ban on gatherings to assemble on an Amsterdam square for a demonstration against the Dutch governments coronavirus lockdown measures.
The municipality of the Dutch capital had outlawed the protest, saying police had indications some demonstrators could be attending prepared for violence.
But thousands of people made their way to the square on Sunday, with some unfurling a banner that read, less repression, more care near the Van Gogh Museum. A group of people in white overalls and white masks held up signs, including one that said: Its not about a virus, its about control on one side and Freedom. on the other.
There was a heavy police presence on the square and in nearby streets. The municipality designated the area a security risk region, a decision that gave police powers to preventatively frisk people.
NEW DELHI India has reported over 27,000 new COVID-19 cases, data from the Health Ministry showed amid growing concerns of a potential new surge stoked by the highly contagious omicron variant.
Sunday's confirmed cases represented the highest daily count since October. The country also reported 284 deaths, bringing India's total death toll in the pandemic to over 481,000 people.
The country now has more than 1,500 confirmed omicron cases, with the highest number in the western state of Maharashtra.
India plans to start vaccinating children between the ages of 15 and 18 on Monday.
Various states have brought in a slew of restrictions to curb cases, including nightime curfews, restricted seating at bars and restaurants, and bans on large public gatherings.
ATLANTA Another one of Georgias largest school districts has decided to start 2022 classes virtually because of high numbers of COVID-19 cases.
Atlanta Public Schools announced students will be virtual when classes start back after winter break on Tuesday.
The district is also asking all teachers and other staff to report to their jobs for mandatory COVID-19 testing unless they are ill and will use that information for planning, the district said in a statement.
Currently, Atlanta schools plan to return to regular classes on Jan. 10.
Atlanta schools join Fulton County, Dekalb County, Clayton County and Rockdale County schools in a virtual return after Christmas.
Georgias two largest school districts Gwinnett County and Cobb County have not announced any changes to returning to school in person as of Saturday.
PARIS – French authorities announced Saturday that children six and older will have to wear masks in indoor places open to the public as new cases of the highly contagious omicron variant surge past 200.000 for the fourth consecutive day.
By lowering the age of children obligated to wear masks from 11 to 6, the government is hoping to avoid shutting down schools after the holiday break. Classes resume Monday and young children will have to wear masks in public transport, in sports complexes and places of worship. The mask mandate extends to outdoor spaces in cities such as Paris and Lyon that have recently re-introduced mask wearing outside.
On the first day of the new year, France registered 219,126 new infections, down only slightly from the daily record of 232,200 noted on the last day of 2021.
French government is betting that fifth wave of the pandemic driven by the fast-spreading omicron variant can be tamed without returning to economically damaging lockdowns or curfews and without hospitals collapsing under growing numbers of gravely sick.
France has lost 123,000 people to COVID-19.
DALLAS For air travelers, the new year picked up where the old one left off – with lots of frustration.
By late morning Saturday on the East Coast, more than 2,400 U.S. flights and nearly 4,200 worldwide had been canceled, according to tracking service FlightAware.
That is the highest single-day toll yet since just before Christmas, when airlines began blaming staffing shortages on increasing COVID-19 infections among crews. More than 12,000 U.S. flights have been canceled since Dec. 24.
Saturdays disruptions werent just due to the virus, however. Wintry weather made Chicago the worst place in the country for travelers, with 800 flights scrubbed at OHare Airport and more than 250 at Midway Airport. Forecasts called for nine inches of snow. Denver, Detroit and Newark, New Jersey, were hit with at least 100 cancellations each.
Southwest Airlines, which has major operations at Chicago Midway and Denver, canceled more than 450 flights nationwide, or 13% of its schedule, by midmorning. American, Delta, United and JetBlue scrubbed more than 100 flights apiece.