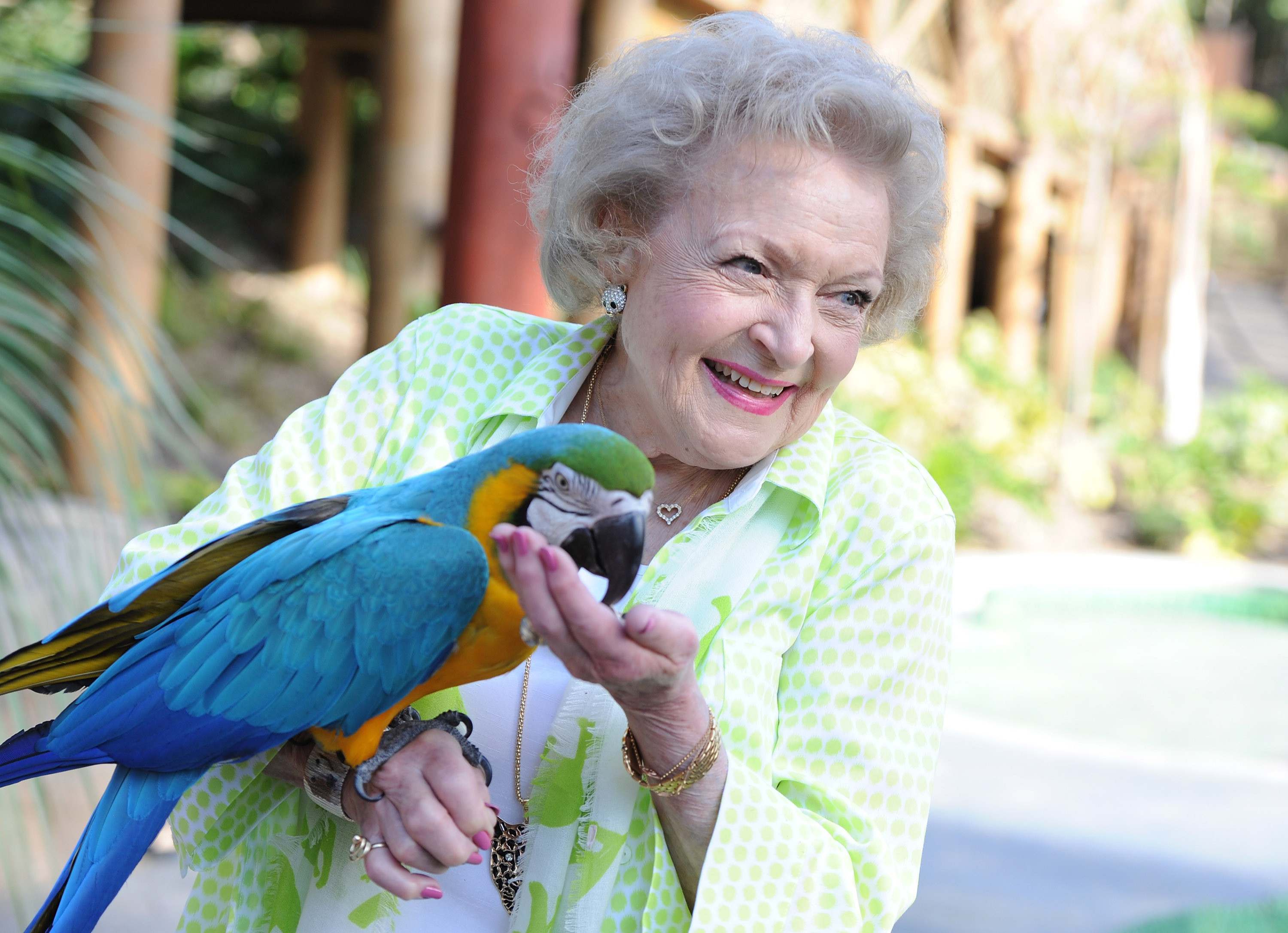 The Columbus Zoo and Aquarium called Betty White "a true champion for all animals" after the 99-year-old actress died on Friday. White is pictured posing with a parrot during an event at the Los Angeles Zoo on June 14, 2014. Angela Weiss/Getty
Ohio's Columbus Zoo and Aquarium hailed "supporter" Betty White as a "true champion for all animals" after she died on Friday.
White died in Los Angeles at the age of 99, fewer than three weeks shy of celebrating what would have been her 100th birthday. The Columbus Zoo issued a statement expressing grief at the passing of the Golden Girls star, noting that she had long been a supporter of both the zoo and its former director Jack Hanna, whose TV appearances as an animal expert led to him becoming a celebrity in his own right.
"Our hearts are heavy hearing of the passing of our friend Betty White. We cherish the fond memories of her most recent visit to the Columbus Zoo and Aquarium when she was our guest of honor at the opening of the Heart of Africa region in 2014 with her dear friend Jack Hanna," the zoo's staff wrote. "Betty was a wonderful person, a supporter of the Columbus Zoo, and a true champion for all animals. She will be greatly missed."
The entrance road to the Heart of Africa exhibit, which White helped open in a ribbon-cutting alongside Hanna in 2014, was named Betty White Way in honor of the beloved actress. A tearful White reportedly told Hanna that she felt she had finally visited Africa after first experiencing the $30.4 million expansion, a 43-acre expanse that features animals including lions, zebras, giraffes, monkeys and ostriches.
"We are heartbroken by the passing of our dear and special friend, Betty White," the family of Hanna, who was diagnosed with dementia earlier this year, wrote in a statement. "Jack first met Betty in the late '70s and we have considered her a cherished family friend ever since. Betty was a champion for the animal world. We were so grateful and blessed to have known her."
White had a reputation as an animal lover that extended far beyond the Columbus Zoo. Her love of pets led to her caring of "26 dogs" at one point, she toldPeople magazine in 1999. She was a frequentvisitor and supporter of multiple zoos and was heavily involved in the animal welfare organization Morris Animal Foundation for over 50 years.
Morris Foundation President and CEO Tiffany Grunert said that it was "hard to imagine a world without Betty in it" in a statement on Friday, calling White "a tremendous animal advocate who tirelessly supported the work of Morris Animal Foundation to improve the health of animals globally."
White's closest zoo relationship was with the Los Angeles Zoo. White worked at the zoo as a volunteer from the time it first opened in 1966. She became a member of the Greater Los Angeles Zoo Association's Board of Trustees in 1974, the same year she recruited a slew of celebrity friends to take part in a TV special highlighting the behind-the-scenes work that went into caring for animals at the zoo.
White served as chair of the association board beginning in 2010. She also authored the book Betty & Friends: My Life at the Zoo, the proceeds of which were used to benefit both the zoo and the zoo association.
"Betty White Ludden's legacy will have a lasting impact on all of us here at the Los Angeles Zoo," Denise M. Verret, CEO and director of the zoo, said in a statement obtained by Newsweek. "She was a long-time champion and friend of the L.A. Zoo who advocated for us and helped to amplify the work we are doing to conserve wildlife."
"She cared deeply for all living creatures – including us," continued Verret. "Her loss leaves a great hole in our hearts. The L.A. Zoo cannot thank Betty enough for her decades of support, and we share in this grief with all of you. There truly will never be another person like her."